Atlas Air Service has performed its first complete overhaul of a pre-owned Embraer Legacy 600 (built in 2006) individually to customer specifications. The jet cabin interior and exterior both have been part of the overhaul. The project task was managed in close collaboration with FTI Engineering Network GmbH, Satys Sealing & Painting from the Netherlands, Ingenio Aerospace from Canada and the AeroVisto Group from Switzerland. "
This project marks a great milestone for us! Successful partnerships drive change, impact and opportunity for all participants. This enables us to expand our service and offer professional interior refurbishments at highest levels of quality and service," says  Serkan Akin, MRO Sales Director Atlas Air Service. "Thanks to the close and effective collaboration with our partners, we could successfully deliver this project in quality and on time."
The AeroVisto Group, aviation interior specialist, contributes its expertise to create a new aircraft interior. The color-concept in "Crystal White & Piano Black" matches the vision of the aircraft owner and is consistently deployed throughout the entire cabin. All interior components in Piano Black are protected with a proprietary AeroVisto surface technology from scratches. "Innovative alike, the premium leather VIP seats in Crystal White are manufactured by our skilled craftsmen and specially protected with the innovative Stahl Stay Clean® Technology.
This Best-in Class Technology has already become a global benchmark in High-End Automotive OEM", said. Carsten Matthiesen, Executive Director Commercial & Owner, AeroVisto Group. I Pad holders are also installed in the cabin on customer request. These are provided by the company Ingenio Aeropace, which specializes in entertainment and plug-and-play equipment for aircraft cabins. More than 10,000 man hours were invested in repainting, planning, execution and delivery of the overhauled aircraft. The full-service station Atlas Air Service expands its range of services and now also offers professional solutions for aircraft refurbishments.
Atlas Air Service, a German family-owned company celebrating its 50th anniversary this year, is committed to sustainable and comprehensive business aviation service. It is one of Europe's largest full service provider for business aircraft. The company employs 250 staff members at its four business locations in Germany (Bremen, Ganderkesee, Stuttgart and Augsburg).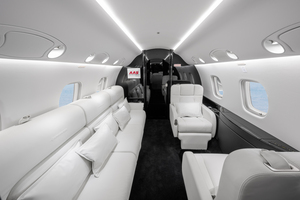 The business units include aircraft sales and brokerage, maintenance/repair/overhaul (MRO), airworthiness management (CAMO+), non-destructive testing (NDT), aircraft management (AOC) and charter. Atlas Air Service is an Authorized Service Center for Embraer Executive Jets, Williams International, Honeywell Aerospace, FAA Approved Repair Station and Cessna Citation specialist.